Cheer
What is Cheer?
Cheer is a method that enables you to express your appreciation for the content creators who build Audio Clips for the Reiterate shop. Is there an Audio Pack that you found especially helpful? Cheer for its creator!
Cheer is completely optional. Some Audio Packs have a purchase price, and some are free, but you can cheer for either type as much as you like
Cheer is bought with real-life money, through the App Store. When you spend cheer for a product, those proceeds are shared with the content creators.
If you wish to express your support for the Reiterate App itself, thanks! There are some clips I have put in the Shop and when you cheer for those clips the money is used to further development of the Reiterate app itself.
Buying Cheer
You can buy cheer directly from the shop, or whwnever you want to spend cheer. It's sold in pacakges of 50 to 1,000, and if you buy a larger package you get more cheer for your money.
Cheer does not expire, but you can't transfer cheer or gift it to other people.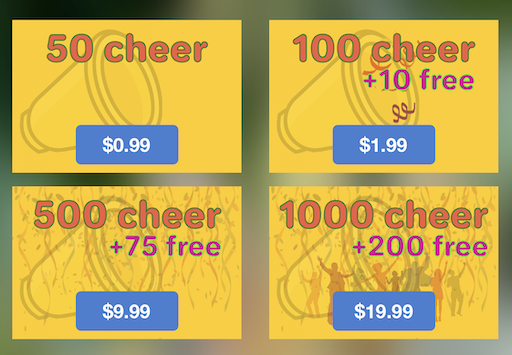 Spending Cheer
You can spend cheer anywhere you see the cheer icon with a green bar. Any Audio Clip that was purchased from the Shop (even free clips) will have that icon. The number in the green bar shows how much everyone else has cheered for that Audio Pack.
Tap the cheer icon to bring up the Spend Cheer dialog. You can give as much cheer as you want, or as little as one cheer. Cheer accumulates on a per-audio pack basis, so when you cheer for one clip in an Audio Pack you're cheering for the whole pack.
Content creators benefit from cheer in two ways. The first is financial: cheer proceeds are split with content creators. Second, cheer totals are public so everyone can see which packs are the most popular. Audio packs with more cheer appear first in the shop.
Sending cheer is anonymous by default. You have the option of adding a signature to your cheer so the creator you're cheering will know who you are. You can also add a message with your cheer. Content creators can respond to your message and you will see their response in your Cheer History.

Your Cheer History
The upper right corner of the shop displays your cheer balance. You can give up to this much cheer before you have to reload and buy more.
Tap your cheer balance to view your cheer history. You can see every product you've cheered for, along with any comments you've sent and replies from the content creators.